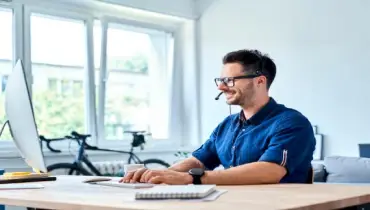 Securing Your Connection
Working from your home office provides many advantages. You cut the commute time and cost, can sleep a bit later, exercise first thing, and don't have to share a bathroom with co-workers. Employers have also acknowledged the benefits and increased productivity of work-from-home employees. All these benefits and increased productivity rely heavily on one thing—our ability to stay connected. An unreliable connection can have a negative impact on our ability to work productively from home.
Related Topic: Electrical Wiring for Home Office for Better Productivity
Protecting Your Equipment and Your Work
Supporting a robust home-office setup might be asking too much from your home's existing wiring. Computers, printers and other office tools demand a stable and reliable power supply. These are sensitive electronic devices. Electric power that is inconsistent or insufficient is not good for them and can sometimes damage internal components. Data, or entire projects can also be lost during power surges or outages.
Solving the Demand for Power
Homes over 10 years old often need some improvements and/or upgrades to panel boxes, outlets, and lighting to adequately handle the addition of all these devices—like a dedicated office circuit. If the number of devices in your home office has increased, you could be at risk of overloading the current circuit. One indication that you're asking too much of a circuit is if the circuit breaker trips often. A breaker that trips frequently can damage sensitive electronics—like home office equipment.
Protect Your Office Equipment and Your Family
A circuit breaker is a necessary protection against overloading the circuit, but it is not a failsafe. It's designed to instantly shut down power and prevent electrocution but will not protect office equipment from damage. A breaker that is consistently being tripped usually indicates a bigger wiring issue—one that should be addressed. This is where the installation of a dedicated circuit for your home office can provide a huge benefit: this dedicated circuit is isolated from use by other devices—devices that draw a lot of current.
Improve Productivity and Reduce Interruptions
Messing around with circuit breakers can become a major drain on productivity, especially when you're trying to meet a deadline. Fortunately, a circuit breaker issue is a relatively easy problem to solve. Call your local Mr. Electric professional to assess your current system and discuss any necessary upgrades. In addition to a dedicated home office circuit, your home may also benefit from a panel, or other upgrades— a USB outlet might be handy. A whole-house surge protector can also add another layer of protection—a logical addition when installing a dedicated circuit.
Related Topic: Should I Upgrade My Electrical Panel for My Home Office?
Contact your local Mr. Electric for a complete evaluation of your current system. Don't let an outdated or insufficient electrical system get in the way of your work from home experience. Ensure you stay connected with a dedicated computer circuit for your home office.